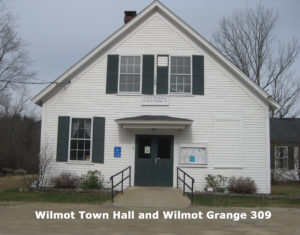 Grange In Wilmot
---
In this documentary, Liz Kirby and her brother Charles Thompson share stories and history of the Grange in Wilmot, New Hampshire. This interview was recorded on October 29, 2020, by the Wilmot Historical Society members Judy Hauck, Lindy Heim, and Fred Ögmundson at the home of Charles and Jackie Thompson, on Cross Hill Road in Wilmot, New Hampshire.
Additional Resources
Transcript of Video (PDF)
Credits
A Special thank you to Wilmot Historical Society Vice President, Catherine Stearns.
Wilmot Historical Society video crew
Videographer: Judy Hauck
Interviewers: Fred Ögmundson and Lindy Heim
Produced By: Theresa Chamberland of StoryCatcher Studios
Music
Reaching Out by Kevin MacLeod
Link: https://incompetech.filmmusic.io/song/4265-reaching-out
License: https://filmmusic.io/standard-license